Eleven girls, made and modelled their own outfits.   Over the past year since their last Personal Centered Plan (PCP) it has been the dream of the girls to make their clothing. So under the guidance of Pamela Noonan and Bridget Kennedy they made them. The dream grew to we'd like to model our clothes.
So with this in mind the next step was to organise the show.   The lovely Celia Holman Lee graciously gave her time to making the final part of the dream come true. Now she was absolutely fantastic, the girls were at their ease modelling.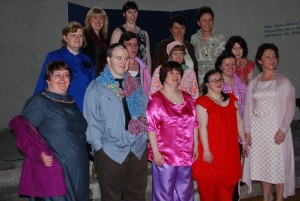 In preparation we held our own meeting and mind mapped our ideas, thus ensuring nothing was left out. We wanted to send out invitations, a red carpet, lighting, music, the press, 95 Fm, a photographer, refreshments etc. We designed our own invitations and printed them off on the newly acquired desktop and printer.
The up and coming fashion has been foremost in our minds, "we talked about it even when we were in our Community House" says Caroline Keane.
A week before the show we had the Limerick Leader do a piece on us, when we were putting our finishing touches to the garments.
Make up and hair was done by Pamela and Breda Fleming. The day before our lovely volunteer Juliette Moriarty had all our nails manicured and polished. For whom we are gratefully appreciative of. Every last detail was covered, even the hair spray, Carol Ann O Toole brought that in.
Talking about all hands on deck, well they were. Donal Sherlock our Manager got Daghda Church as the venue. Jane Toal furnished us with her curling tongs.  Roy and Jim of Daghda gave us great assistance on the day and we are very thankful.
John Neylon and his men were collecting red carpets from Kilmurry Lodge and Castletroy Carlton.   Tom Connolly in Catering gave us a loan of water jugs. Cahills, "The Bow", William St, gifted us with four dozen beautiful pink cup cakes. Now these were finger liking good.
Well the fun of putting it all together was great. All the props were assembled the day before. Excitement was palpable. Daghda Church was stunning. We had our own sign up on the main stage, and decorating it were Marie Ryan's hand painted glass jars each with night lights. Gracing the nearby window a huge bouquet of flowers stood, which Norma presented to Celia in her thank you speech.
Behind the scenes and before the modelling commenced, Celia came back stage, was introduced to all the models, with an expert eye she examined their outfits.
Even though Mary P Ryan was absent on the day her two toned check fleece caught the attention of   Celia.   Mary P's fleece was modelled by Norma. Celia traced her index finger along the matching pink and lilac check from the tip of the collar to the front piece, the matching at the zipped front, and noted the continuous matching from front to back.   Celia examined the inside finish of the garments. She said, "their work was of an exceptional high standard it could be placed alongside the Fashion Design students at Limerick School of Fashion Design".
Celia certainly highly commended our very high standard of work, we need to give ourselves a clap.
Norma Hogan was no stranger to the microphone and welcomed everybody, followed by Bridget Kennedy saying a few words and then Celia started the show.
Pamela and Breda had us all lined up in order of appearance.   Day wear was presented first, and then sports wear, followed by night wear and final presentation was evening wear.
Oh boy did we walk that walk and gave the twirl. "We loved it", says Caroline O Donovan.
Now we didn't leave anybody out, Martin Malone wore a fabulous scarf knit by Caroline Keane.
Celia commented on the creativity of wearing something from last years wardrobe to complement the piece they had made.   She had all the descriptive words flowing off her tongue, describing each girls outfit, with the exception of when she was describing Elizabeth Doris outfit.   "Elizabeth', says Celia "˜made her A line ankle length skirt, it fits beautifully at the waist. She has an over blouse with waterfall effect in the front, and it' keeping with the' "¦, there was a pause from Celia. Elizabeth came to her rescue and prompted, "the line", to which Celia took her cue and said "the line".   She laughed and said. "imagine Celia forgetting her lines". The lively spontaneity of both ladies evoked a clap and great laugh from the interested audience.
Maura Gleeson exhibited twice, a royal blue blouse and navy skirt. Her royal blue blouse had detailed frilling around the front opening and collar and black buttons. She pinned a black silk flower to the blouse.
Maura's second idea was a fabulous sea green satin leisure robe. Based on the traditional dress of the Chinese. Celia drew our attention to the belt, hand embroidered by Maura herself at the front and had the added detail of a large bow at the back.
Mary Considine was "˜the lady in red' , she made the red trousers and teamed it with a red flowing sheer over blouse.   Her second outfit was in the evening wear section. Now as Celia put it, " Mary wore this outfit last year at her sisters wedding, she did not make it. She loves an occasion to wear this outfit, party and have fun. And why not give her another occasion to wear this beautiful deep rose, full length evening skirt and top, draping over her shoulders she has a matching wrap."   Mary walked the red carpet, stopped, put her hand on her hip, looked over her shoulder and gave the captivated audience a twirl, midway down the stage. The audience cheered and clapped.
Caroline Keane was wearing a stunning dress in grey blue with a deeper coloured insert down both sides, the short sleeves were trimmed with colourful flower trim. Caroline was like a professional model, I nearly fell over when I saw her flick the jacket off one shoulder, and with a toss of her head she proceeded to twirl at the end of the catwalk. Later Caroline said to me, "next year we have to get the music part right, that's my recommendation".
Marie Ryan made a swing brown tweedy below the hip length jacket, and wore it with a brown trousers she also made. She looked lovely. Marie said " it was the best day of her life".
Christine Delaney modelled for the night wear. Her outfit was a two toned pink and lilac silk pyjamas. The pocket of   the pink top was piped in the lilac. The legs of the pyjamas were in lilac. " How beautiful" says Celia.
Caroline O Donovan wore a fleece and matching hat. The fleece had the top part in lilac, the sleeves and lower part in the pink. It had a zipped front. Celia got Caroline to show off the detail of the ruching in the back and how it complemented her shape.
Carol Ann O Toole had fabulous white a line skirt, teaming it with one of her favourite blouses from last year. " White, says Celia is this Summer must have color".
Orla Gillan from Crafts did a work placement with us.   During her time in Sewing she made a fabulous fleece, in the softest of fabric. It was a hooded style, and had a large pocket in the front. Orla purchased two green t-shirts that contrasted with the fleece. One was cut up to line the hood, and the second, had the neck line changed, detail added to the sleeves, to complement her fantastic sewing. She made a ski hat and scarf with fabric that was left over.
Martin Malone, the only man in our group in sewing, modelled Caroline Keane's scarf. He loved been on the catwalk, he didn't want to get off.
The final part was the grand finale where all the models, with Pamela and Bridget took to the catwalk.   At this stage the audience were on high and gave us a standing ovation.
Celia and all the girls individually said a final few closing words. The girls posed with Celia for more photos to be taken.
It was a great day for all the models, and thanks to everybody for making it so, your contribution made it a success. PCP is very much alive in Limerick, and today we showcased it.
All the parents who came, told Bridget and Pamela of their joy today.   One Mother with a tear in her eye   said " she never thought she would have such a day like she had today, ever again'. She continued to say, "˜You don't know what today has done for me, I can't put words on the way I feel".
Four months after the Fashion show the girls are still talking about their day, and planning next year